You Asked For It...Now The Wait Is Finally Over
MINDPOWER Live!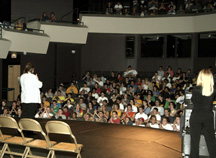 After many special requests Robinn Lange has designed this special performance, created by popular demand, that combines highlights of both Robinn Lange's HYPNOFUN Live and The MINDPOWER Mentalist Show, offering the best of both worlds!

MINDPOWER Live! is the ultimate entertainment showcase of the amazing abilities of the magic of our minds.
Audiences will enjoy astonishing feats of mind reading, hypnosis, memory, and more pushing entertainment to the limits of reality. A captivating performance that combines the realm of possibility with the absolutely impossible.
Audience members will also be astonished at their own mental
abilities as they perform feats they never thought possible.

Witness a great performance that will challenge your beliefs and abilities and will have your audience talking long after the performance is over. No tricks, illusions, mirrors, special effects or camera-tricks - just the amazing powers and abilities of the mind of Robinn Lange.
A Complete Two Act Performance That Is Truly Mind-Boggling
MINDPOWER Live! is unlike any other performance you have ever seen as it is truly original and unique and will leave your audience amazed.