For many students the transition from elementary to middle school can
be an exciting, yet daunting experience. A new schooling structure, new students and teachers, a more advanced campus, and uncertain expectations, coupled with physical and emotional adolescence changes can make this transition seem quite overwhelming. Students feel caught between the excitement that comes from finishing the elementary school years and the anxiety of starting middle school.
Making the transition to middle school should be one of the most exciting times in a students's life. Now, showcasing the right preparation, forethought and the proper mindset, this program can create a confidence and excitement, while offering students the insights and tools they need to succeed in their step up to middle school.
Program highlights include...
The 7 Things All Incoming Students Want To Know
Avoiding Middle School Stress
Embracing The Change
Fitting In & Adjusting
Expectations & Decisions
Our "Middle School Survival Guide"
Middle School Homework Tips
The Parents Partnership
The 5 Keys To
Creating A Successful & Memorable Middle School Experience
This special program allows students embrace the step up to middle school as a maturing and growing experience that should be embraced by both students and parents. Middle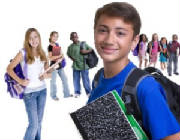 school creates an impact on our students that lasts a lifetime, as many students will remember middle school as the best times of their school years.
This academic enrichment program is an excellent way to enhance your Orientation or Back-To-School events while offering the insights of nationally known student Mindpower expert Robinn Lange and his powerful educational messages.
Available in Student Only, Student & Parents or Parents Only Formats.