Handwriting Exposed! live performances and personal handwriting profile analysis are excellent and unique sources of fun and memorable entertainment for all types of events, formal or casual, small or large.
An excellent attraction or entertainment for a variety of events including Banquets, Dances, All Night Lock-Ins, Graduation, Prom, Homecoming, Spirit Week, Orientations, Parents/Siblings Weekend, Homecoming Weekend, Spring/Fall Celebrations, Spring Break, Inter-Fraternity Socials, Sorority Events, Rush Events, Exam Stress Reliever, Fundraisers, Student Union Events and a variety of other special events. Your students and guests will be amazed at the true and entertaining insights into themselves.
Students Are Fascinated By Handwriting Analysis
The interesting and fun mass-appeal makes Handwriting Exposed! Handwriting Analysis very popular with everyone of all ages. Your guests will be astonished at our analysts can tell them about their character traits and personality.
Compatibility Analysis
How compatible are you with your friends, classmates, relatives or even boyfriends/girlfriends? Our Compatibility Analysis profiles a fun and insightful look into how compatible two or more guests are with each other. What are your similarities and common interests, what traits are shared, and what are the differences?
Handwriting Exposed! Handwriting Analysis is an excellent and intriguing attraction at celebrations and events of all sizes.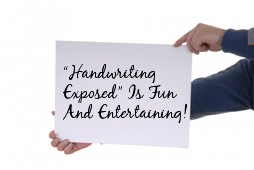 Finally, The Something Different You've Been Looking For!


Handwriting Exposed! offers the unique ability to connect with groups both large and small to create a great entertaining atmosphere and a very special and memorable event.
Handwriting Exposed! is available in two different presentation formats: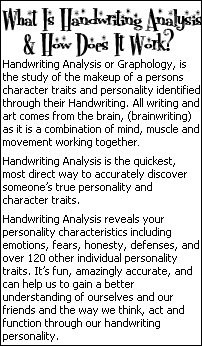 HANDWRITING ENTERTAINMENT SHOW
"Handwriting Exposed!" is a fun and interactive audience participation performance showcasing our expert's amazing abilities to read the Handwriting of your guests in an entertaining and humorous demonstration, then in a exciting twist, the entire audience will try to match Handwriting profiles of the volunteers to their creators. Nothing embarrassing, just fascinating fun for everyone.
PERSONAL HANDWRITING PROFILE READINGS
You and your guests can enjoy personal one-on-one profile readings. A table or booth is setup at your event allowing interested guests to enjoy their own private, personal Handwriting Profile Analysis. Each participant also receives a special keepsake Handwriting Personality Profile featuring interpretations of their personal revelations and individual characteristics.
Both formats may be combined for even greater fun and excitement!
Start with the Handwriting Entertainment Show to introduce and showcase Handwriting Analysis, then continue with several hours of personal one on one analysis at a table or booth.
Handwriting Exposed! is also available as an add-on attraction to our other entertainment performances. Receive special discount pricing when booking Handwriting Exposed! together with our other entertainment shows*.
Individually or combined, Handwriting Exposed! will be a highlight of your next event!
*Subject to availability and qualifying entertainment shows only.