FEATURED FAMILY FUNDRAISING EVENTS

Our Main Event Fundraisers are special event productions designed for students and families, or for even great profits - the entire community. These live events each feature multiple sources of profits and the mass-appeal of these events allow many of these events to become annual traditions that are looked forward to every year. These events can be produced indoors or outdoors and allow many opportunities simply not available from the "same old thing" product-based fundraisers.
Each event production includes our Project Kit or Program Guide to assist you and your committee every step of the way. The following are event descriptions for each of our live event productions.
Family Funfest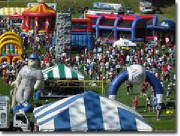 The ultimate family fun event! An event with fun, activities, entertainment, food and a variety of businesses and vendors from your community. Stage performances, face painters, strolling characters and performers, prizes, contests and much, much more. Features, activities and events for all members of the family - kids, teens, parents, and even grandparents. From just a few hours outing to a full day event, all ages will enjoy a great family activity while raising money and supporting your school, group, association or cause.
Health & Wellness Fair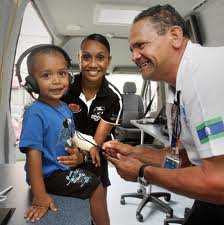 An event that features heath, fitness and nutrition-based activities including healthy food vendors and concessions, and a variety of family health-related businesses and vendors showcasing the latest health screenings, demonstrations, educational resources and presentations. This family health event can also include several optional events such as our Family Fun Run-Walk.
Featuring the message of family health, this great family event also includes our Healthy For Life - Eat It!, Move It! Live It! presentation which is presented in conjunction with First Lady Michelle Obama's "Let's Move" initiative. We are proud to be working with the President and Mrs. Obama to do our part to create awareness and education to the problem of youth and teen obesity.
Family Fun Run-Walk
Get the entire family involved to walk or run for profits! A health and family fun-based event that features the benefits of getting exercise and moving your body. Nothing strenuous, just basic physical activity designed for family members of all ages. Healthy food vendors and concessions, and a variety of family health-related businesses together result in a healthy fundraiser that is good for everyone!
Classic Car & Motorcycle Show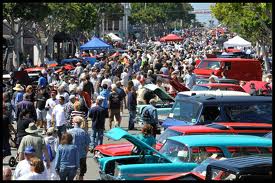 Let the good times roll! A great family event featuring classic and specialty cars and motorcycles from yesterday and today. Relive the generations with music, food, vendors, prizes, contests and the finest hot rods, customs, stock, antique, classics and funnycars and motorcycles from the past hundred years. Vote for your favorites and enjoy the awards presentation. Includes our Blast From The Past Disc Jockey package that includes games contests, giveaways and the greatest crusin' hits of all times. A costume contest allows everyone to dress up in "threads" from their favorite decade of the past - leather bikers, poodle skirts, tie-dies, disco suits, and more will fill event. Great rides, great tunes, great food and great family fun, while raising funds by hosting a fun "retro" family event!
Arts & Crafts Show
An event of a variety of arts and crafts feature dealers from your area and the surrounding communities. Woodworks, handmade crafts, specialties, holiday and gift crafts, clothing, jewelry, a variety of many types of art, and much much more. Many additional activities, concessions, add-ons and related events allow you to create the perfect event for your fundraising needs. This great community event will attract guests locals as well as visitors from neighboring communities join in the festivities. Arts and craft activities for kids and teens, entertainment and giveaways also make this a great family event for all ages.
Santa's Holiday Festival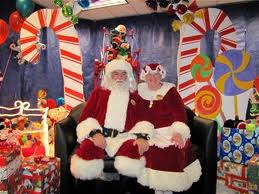 Celebrate the holidays with one of our most popular fundraising events! Your choice of over fifteen holiday features, attractions and activities including Santa's Workshop, a Holiday Arts & Crafts Show, A Holiday Bake Sale & Contest, a Toy/Food Drive for charity, a Gift Wrapping station, Santa Photos and the very popular Breakfast With Santa. Holiday arts & crafts for all ages and family fun and entertainment with our fun and games team presenting "Reindeer Games" for kids, teens and even the entire family. A great family fundraiser at a very charitable and family time of year.
Ice Cream Social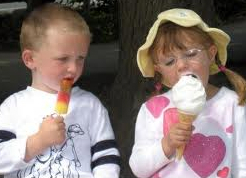 We have taken this longtime family fundraising event to another level. Featuring entertainment, games and contests hosted by our Fun & Games Team, music, vendors and a variety of local business vendors. Several add-on options allow this this event to expand to a level to generate maximum profits and appeal. Everyone loves ice cream and entertainment, and our Ice Cream Social delivers an affordable fun family outing for your students, families, faculty and community.
Halloween Spooktacular
A great fall holiday event of family fun, entertainment and activities. A costume contest, haunted house, food and concessions, a pumpkin patch, hay rides and many other events and activities bring family members of all ages together for a unique "not-too-scary" Halloween celebration for young and old. Halloween is one of our kids favorite times of year, and this event allows kids, teens and parents to celebrate the holiday together with this safe and family-friendly "spooktacular" fundraising event.
Spring Fling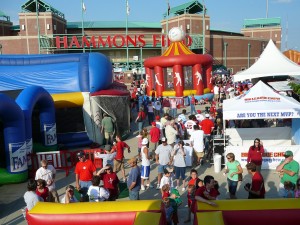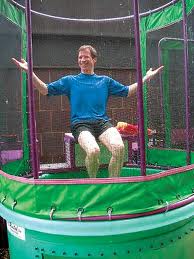 Winter is gone and the school year is nearly over, it's time to celebrate with our Spring Fling family fundraiser. Featuring a variety of family-related events and activities, this event is like Spring Break - for kids and families. Strolling and mainstage entertainment, food, vendors, rides, dunk tank, an obstacle course and many other options together create a family celebration that will soon become a tradition at your school. This event may also include a Easter-theme with an Easter Egg Hunt for kids and other games, activities, entertainment and of course a costumed Easter Bunny. Winter is over, Summer is not here yet, which makes our Spring Fling the perfect time for a family celebration!